The Futures so bright….Emerging Solar Technologies
Solar Thermal Through
Thermal troughs use mirrors to concentrate the sun's heat to cook tubes of oil up to 400 C. That oil is then passed through water, heating it to steam which drives a turbine.
Presently, a couple "plants" supply power. These plants exist out in the desert and typically provide 100-300 megawatts of power (30K-120K homes).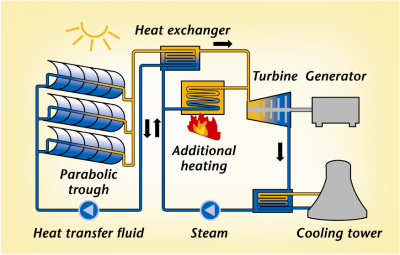 Thin Film Solar
It's the same concept as standard PV solar, but the material uses polymer substrates to create a flexible material. The resultant material is much faster to install while providing similar energy output as PV. In addition, much less silicon is used, possibly lowering the cost down the road.
The technology is still in a demonstration phase (not much manufacturing capacity), but shows a good deal of promise.
Here is a video on a thin film startup in the Bay Area (c/o KQED QUEST)

Solar Paint
Still in development, the idea is a special set of ingredients (aluminized mylar and indium tin oxide) are mixed in with paint. When sunlight hits the paint, electrons are knocked loose straight into wires that connect directly to your home's power. The potential is monumental…cheap, easy to apply, little to no installation.
These are just a few examples….an extraordinary amount of money is being poured into solar research in the last few years. We do have a lot to look forward to when it comes to solar, the question seems to be transitioning from research into strategy for implementation…a huge issue for any new energy source.